Welcome to Beautiful
WEBSTER LAKE
Lake Realty
111 East Main Street Webster, MA 1-508-943-9306 1-800-552-7444 Fax 1-508-943-5454

82 Lakeside Ave $1,195,900.00
There is Extensive Information to Scroll Below, at the Bottom are the Floor Plans for All 3 Levels
Webster Lake Waterfront property with 157 ft. of lake frontage, 11+ Rooms, 4 Bedrooms, 5 Baths, 3832+ finished sq. ft. (approx. 4600 total Sq Ft) of living area including: Living, Dining, Breakfast, 4 Bedrooms, Large Rec Room, 2 Kitchens, 5 Bathrooms, Foyer, Pantry, Sauna, Utility Room, and Workshop. Workshop and Utility Room are unfinished. Other structures include a Boat House, and standalone single Garage.
The design goals for this house focused on, optimizing views of the lake, and maximizing living convenience. For views, all of the most frequently used rooms were given lake views with oversized windows and doors added to provide each with an expansive view. These views were further expanded with an open style kitchen, casual dining, and family room area. The living conveniences are more subtle but very extensive and include: one floor living with laundry and master suite on main level, panty and kitchen located near garage for easy grocery unloading, lighting automation that adjusts to your living patterns, turn out in driveway to avoid having to back out on road, heated floors in kitchen, hallway, and master bath, far end circulator for kitchen faucet provides near instant hot water, dual dishwashers for "clean to dirty" flow, fully automatic backup power generator, remote controlled Sunsetter awning over deck, breakfast bar in kitchen, 2nd stairway directly to garage from lower level, Garage door auto close if left open, 2nd fridge in pantry, remote controlled fireplace, automatic heat to cool switching HVAC system, etc.
Built in late 2005, the house is on a triple lake front lot plan with 157 ft. of lake-frontage for excellent panoramic views of Webster Lake with approximately 150ft of street frontage. Additional structures include a boat house rebuilt in 2005, and a single detached garage renovated in 2006 to match the house. The boat house accommodates boats 22 ft. or less in overall length and 8.5 ft in width. A 32ft aluminum dock extends from the stairway landing next to boat house. A remote controlled transporter rail system moves the boat from the dock side into the boat house storing it out of the water.
The exteriors of the house, boat house, and storage shed, are finished in maintenance free sand color siding. The house is trimmed in white aluminum trim, architectural shingled roofing, double glazed thermo-pane low E Anderson 400 series windows and doors. A 12 x 22ft. deck and 6 x 8ft. front porch featuring maintenance free composite decking using hidden fasteners.
The deck features a 16ft motorized remote controlled retractable SunSetter awning with a retractable sun shade in the outer end to provide shade when desired. A stairway from the deck extends down to the lawn area. Brick walkways connect with the stairs, 12 x 22ft. patio, door to lower kitchen, and double doors to the workshop.
Aluminum gutters and down spout feed all roof runoff into underground drains.
The lawn, and sculptured flower beds, are watered by an in ground 9-zone sprinkler system fed via a well. The well 10 GPM pump is a multi-impeller submersed pump controlled by a constant 45 psi pressure valve. The pump is hung 75ft below the top of the 120 ft. deep well.
The oversized paved driveway provides parking for 8 autos and includes a turnout to allow backing out of the garage and then turning to drive out headfirst onto the street. The lawn areas on both the street side, and lake-front, are flat with sloping side areas connecting the front and back lawns. A 5.5 - 6 ft. high stone wall runs along the waterfront and has a wide sloping shrub bed along the top of the wall. Two sets of stairs provide easy access to water's edge. The wall is set back approximately 6-8 ft. from the water's edge.
Shrub and flower mulch beds run around the perimeter of the lot and also around the perimeter of the house.
The domestic water is town supplied water and town sewer services. Outside faucets are provided for both town water and well water. The well water is used for lawn sprinkler system watering, watering flowers and shrubs, and washing cars and is completely isolated from the domestic town supplied water.
The open style interior includes 4600 sq. ft with over 3830 sq ft of finished living area providing 11 large rooms and 5 bathrooms, laundry, pantry, walk in master closet, plus 2 unfinished areas for the workshop, and utility room. The house design places the most frequently used rooms facing the lake and each provides an expansive view of the lake.
The main level features 9 ft high ceilings and includes an open living layout for the Kitchen, Casual Dining Area, and Family Room. All provide expansive views of the lake.
The kitchen is supported by a walk in pantry located next to the kitchen with pantry access directly across from the door to the garage for convenient access with groceries. The less used rooms including, the formal dining room, foyer, powder room Bath 3, foyer closet, stairways to the upper and lower levels, and laundry area, are positioned along the street side of the house. The south end of the main level also includes the master suite which includes a large bedroom, 5 piece master bath, spacious walk in master closet, and large linen closet. The master bedroom features a 9 ft. window for lake viewing from your pillow. The walk in master closet also features a built in fire resistant safe for valuables.
The lower level has large windows across the full length of the house, and a full glass door leading out to water front, the patio, and the lower lawn area. A set of double doors leads from the workshop to the patio area. The lower level is constructed with 9 ft. ceilings providing 8 ft. under the center beam and HVAC duct enclosure. The finished lower level includes a party kitchen, large rec room, comfortable commercial sized sauna, full bath, and storage closet. In addition to the finished areas, there is a large utility/storage room area, and a spacious workshop/storage room. Both provide ample additional storage space. Besides the doors leading to the outside, the lower level is serviced by two sets of stairs, one leading off the rec room up to the main level hallway, and a second leading directly from the workshop to the garage.
The upper level contains 3 bedrooms, and two bath rooms, that are accessed via an open stairway and balcony open to the foyer. Two of the upper level bedrooms, and main bath 4, have large windows overlooking the lake. These are king-bed sized bedrooms and have spacious closets with double doors. The 3rd bedroom faces the street side and has a walk in closet, and its own private Bath 5. It easily supports a queen sized bed.
Property Details
Floor Plans
<![if !vml]>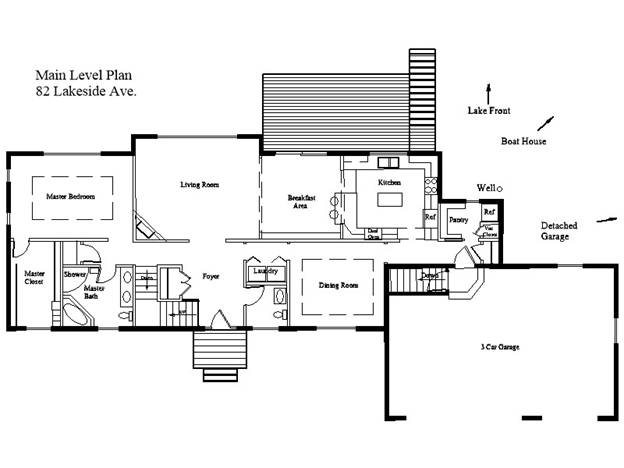 <![endif]>
<![if !vml]>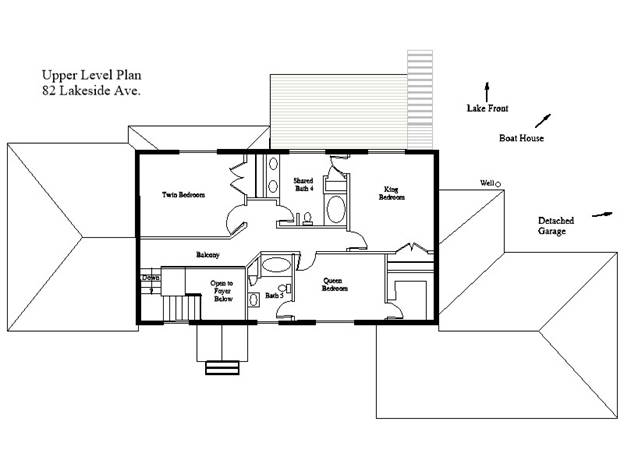 <![endif]>
<![if !vml]>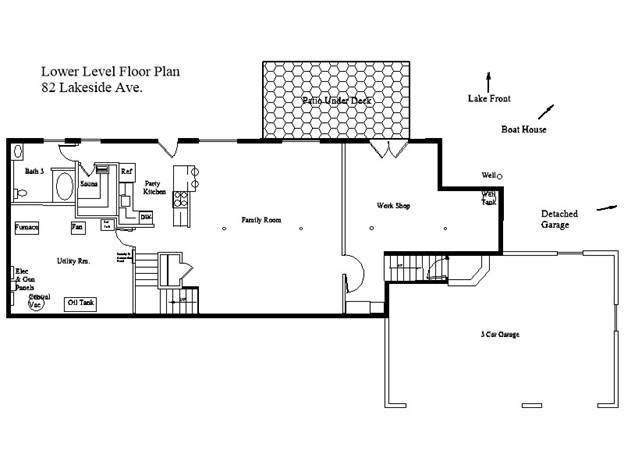 <![endif]>
General Exterior House Details
All exposed exterior materials were selected for maintenance free living.
· Sand tone color wide board vinyl siding on house, storage shed and boat house
· White aluminum flashing trim, eves troughs, and down spouts.
· Maintenance free composite type interlocking decking boards with hidden fasteners was used on deck, front porch and supporting stairs.
· Vinyl clad Anderson 400 Series Casement style thermo-pane windows with low-E glass throughout. All opening windows have crank out sliding hinges for reach out cleaning. Screens included for all opening windows.
· Fiberglass exterior door units for long life.
· Brick paver sidewalks at front and rear entrance areas and on patio.
· Asphalt driveway-3 car width with turnout easily parks 8 autos
· Well feed in ground lawn sprinkler system with constant 45 psi pressure controller valve controlling a 10 GPM pump hung at 75ft in the 120ft. well.
· 4 Outside domestic water faucets and two well supplied faucets on street side and lake side for both well and town water
· 4 Outdoor receptacles (one by lighthouse pad) plus one switched outlet on the street side. Switched outlet used to turn Christmas lights on and off.
· Electric, cable, and telephone services enter via underground conduit from pole at street.
· Two Air Conditioning compressors are located on south end of the house.
· 14 KW whole house fully automatic backup generator located on south end of the house.
General Interior Trim Details
· All bedrooms, closets, finished stairways, upper balcony, and rec room, are carpeted with durable low pile carpet.
· The foyer, formal dining room, family room, and laundry hallway flooring, feature hardwood prefinished Ύ" red oak in natural finish.
· All 5 baths, the 2 kitchens, panty, laundry area, lower level rear hallway, sauna, and main level rear hallway, are finished with large square ceramic tile.
· All interior doors throughout the house feature 6 panel style doors finished with a hard white enamel finish.
· All interior doors use lever type polished brass finish door hardware.
· All room ceiling edges throughout the main level are trimmed with crown molding trim.
· Chair rail style moldings are installed in the dining, foyer, main level hallways, upper level balcony, and all 5 bath rooms.
· Shadow box inlay trim adds trim finish below the chair railing in the, dining, foyer, main level hallways, upper and lower stairways, and upper level balcony.
· Ceiling fans installed in all bedrooms, family room, breakfast area, and main kitchen.

General Electrical Details
All bedrooms, and the family room, are equipped with remote controlled multi-speed fans with lights. Additionally, variable speed wall switch controlled fans are installed in the breakfast area and the kitchen. These fans allow higher AC settings to conserve energy.
· All wall receptacles in all bedrooms, and the family room, have split receptacles with the bottom half live all the time and the top half operating from wall switch to provide choice of switched or live power.
· A Generac 14Kw fully automatic whole house propane powered backup generator system supplies backup power in the event of utility power failure. Upon sensing a power failure, the generator waits for 15 seconds to confirm that power is not coming back on. It then starts the engine, allows 5 seconds for the speed to stabilize, and then transfers the house electricity load from the utility to the generator. When utility power returns, the generator will wait 20 second to make sure the utility power is staying on, and then transfers the house electricity load back to utility power. The generator continues to run for 1 minute with no load to cool down and then shuts down. The generator automatically starts and runs for 12 minutes once a week to exercise the generator.
· A central vacuum cleaner system supports all 3 levels. The central vacuum unit is mounted in the utility room with dual exhausts running to the outside to reduce dust. Each of the 8 room ports is wired to provide power directly thru a wired vacuum hose to power to the wand without the need for a separate power cord.
· Wall electrical outlets, and TV/Internet jacks, are located high on wall areas designated for wall mounting flat panel TVs in all bedrooms, and the family room.
· Motion activated light switches controlled by the home automation system are installed in kitchen, laundry connector hallway, garage, and master bedroom.
General Electronics Detail
A 42" structured wiring panel is located in the utility room and supports the majority of the house electronics. This panel houses: the cable modem, fast Ethernet switch, data router, TV video distribution amplifier, telephone termination blocks, power for garage door status panels, security, fire, and lighting system controller, and voice driver module.
· Telephone jacks are home run from 2 locations in each bedroom, the Kitchen counter, family room, garage, workshop, utility room, and lower kitchen.
· TV and power jacks are provided for wall mounted flat panel TVs in all bedrooms, 2 family room locations, upper kitchen, breakfast area, rec room, and lower kitchen. All cable runs are home run to the wiring panel in the utility room.
· Internet jacks run to each bedroom TV wall location, family room wall TV location, plus 2 other family room locations, 1 addition location in each bedroom for a desk, breakfast area, main kitchen, lower kitchen, and rec room.
· A 48 zone ELK M1 Gold security and automation system. All windows less than 10 ft above the ground, the entrance doors, and doors leading to the garage, garage windows, and the garage doors are wired for security. Motion detectors and glass break detectors are also wired in. The system has two user control panels- One in the master bedroom, and a second, child height, next to entrance door to garage in the rear hallway. Two line LCD displays on these panels provide friendly text description of any zones that are not ready. Alarm system includes loud voice announcer through indoor speaker, and selectable (switch in wiring panel) outdoor speaker, dial out supporting all traditional security monitor services protocols, and internet based monitor services. Lower and main level windows and door glass panels are monitored by glass break detectors.
· Fire alarm system is controlled by the security system and monitors smoke detectors throughout the house, heat detectors located in the garage, and a Carbon Monoxide detector mounted on furnace duct in the utility room.
· Three garage door status control panels are located in, kitchen, next to garage door, and in master bedroom. These panels have an LED indicator, for each garage door, and one for the detached garage door and light red whenever a door is open. Buttons beside each LED allows doors to be controlled. The panels are powered from the structured wiring panel in the utility room.
· Far end kitchen faucet circulator brings instant hot water to the kitchen and avoids having to waste running water to get hot water. A motion detector in the kitchen activates the circulator and an electronic controller located near the hot water tank turns circulator off 1 minute after the last motion is sensed in the kitchen. After the circulator has run, a delay circuit keeps it from running again for 9 minutes to keep the pump from constantly running while prepping meals.
· Family room TV is wired for 5.1 home theater system using a Bose double cube surround speaker system with base woofer.
· Insteon based home automation system controlled by integrated ELK/ISY automation system programmed to accommodate the way you live. Automation includes:
o Motion detectors for lighting controls
o Various lamp smart bulbs
o Light switches
o Appliance modules
o Door Locks
o Selected door, and window security sensors
· Program instructions in the ELK M1G controller cause lights to automatically turn on an off as one moves through the different areas of the house. Evening and early morning lighting automatically references sunset and sunrise times to automatically adjust the on/off timing of the evening and night lighting throughout the year. Doors to garage from both main level and lower level are automatically locked in the evening. These door feature electronic lock units which provide various lock control methods including access or securing using: key, key pad code, using a small remote control, of via program commands from home automation system.
Main Level Room Details
Kitchen
· The kitchen is laid out with an island in the center and cabinets running along available wall areas on all four walls.
· A two place breakfast bar counter forms the divider between the kitchen and breakfast area with an overhang counter. The area above the counter is open to the ceiling.
· All counter tops are Cambria quartz in a tan/black stone throughout.
· Cabinets are solid oak with inlayed door panels finished in natural oak.
· All upper cabinets are 42" height to provide extra storage.
· All cabinet ends have inlay panel end caps that match the door panels.
· Lower corner cabinets include rotating shelf units.
· A slide out shelf is included in the large lower storage cabinet unit.
· 13 drawers of varied sizes include large drawers for pots and pans and shallow drawers for dinner ware.
· Additional upper and lower cabinets extend along a 12 ft. wall in casual dining area.
· Appliances are GE Profile in black finish and feature touch panel controlls and include:
o 36" side by side counter depth refrigerator with charcoal filter and in door water and ice dispenser,
o 30" dual oven convection oven with roasting temp probe automatic control
o 2 dishwashers
o Built in overhead microwave over cook top
o Electric rapid heat ribbon burners under smooth ceramic in-counter cook top, with a burner bridge to handle oblong pans.
o Trash compactor, along with two roll out trash bins supports flexible recycling.
· The dual deep brushed stainless steel double sink with a heavy duty disposal unit. A Grohe 33737 Ladylux Plus pull-out spray kitchen faucet uses single hole mount, single lever control, with pull out sprayer head.
· Under counter Sony Radio/CD player.
· Counter backsplash finished with four inch high backing of matching counter stone joining the countertop with back splash mirror glass extending from the top of the stone backing up the wall to the cabinet bottoms.
· A large triple window provides wide views of the lake while in the kitchen.
· Tiled flooring laid in a diagonal pattern.
· Heated Floors with programmable thermostat controlled hot water heat under kitchen and rear hallway floors, and master bath. Floor heat is synchronized with central heating system.
· Lighting includes 3 zones of soffit recessed cans, plus a ceiling light and fan controlled by a sliding variable control. 9 can lights recessed into the soffit surface in front of the upper cabinets to light up the counter areas.
· A wide crown molding trims the raised ceiling area.
· A motion detector activated hot water circulator to provide near instant hot water to the sink faucet.
· Kitchen counter wired for, telephone, TV, and Internet jacks.
· A garage door status and control panel is located on the wall next to the rear hallway has LEDs to indicate if either garage door is open and includes buttons to open/close them.
· A variable speed ceiling fan with light provides air circulation and additional lighting.
· Slatted retractable blind and curtains on window.
Breakfast Area
· This 12 x 13 area serves as the main casual dining area and offers great views looking out through the 8 ft. sliding glass door that accesses the deck overlooking the lake.
· The diagonal pattern tiled floor flows through from the kitchen.
· Rear wall of the breakfast area lined with cabinets matching the kitchen. Both the upper and lower cabinets are the same depth and provide storage for extra sets of dishes and are separated by a quartz counter topped serving counter using the same stone and mirror backsplash as the kitchen.
· Three receptacles are located along the serving counter to power warming devices.
· A TV and Internet jack are located in the server counter area.
· A variable speed ceiling fan with light provides air circulation and lighting.
· Ceiling perimeter is trimmed with crown molding.
· Vertical slatted retractable blind on slider door
Family Room
· Spacious area with 12 ft. wide window provides expansive views of the lake with operating end window units to enjoy the breezes off the lake.
· 30 yr. - Prefinished Ύ" natural red oak-3.25" wide hardwood flooring.
· Built in remote controlled Lenox propane fueled fire place finished with tile border and framed with a white finish wood mantel and fluted side moldings.
· 5.1 Bose System 15 surround sound. Conduit in wall provides cabling path from behind wall mounted TV to equipment cabinet.
· 55" Samsung LED 240Hz 3D wall mounted TV with 3D glasses.
· 60" Media Center cabinet with Blu-ray DVD player, Denon receiver/amp, Bose base woofer, TV and multimedia remotes.
· Remote controlled multi-speed 54" ceiling fan with built in light unit.
· Ceiling perimeter trimmed with wide crown molding.
· Central vac. port
· 3 LAN jacks, Telephone Jack, and two TV jacks
· Vertical slatted retractable blinds and solar shade on window
Formal Dining Room
· Prefinished Ύ" natural red oak 3.25" wide hardwood flooring.
· Large triple window overlooking street side.
· Chair rail type skirt molding.
· Shadow box inlays below chair rail with medallion fill-ins.
· Recessed tray ceiling trimmed with crown molding on both levels.
· Access to kitchen, and foyer
· Slatted retractable blind and sheer curtains on window
Foyer
· Prefinished Ύ" natural 3.25" wide red oak hardwood flooring
· Two story high ceiling area open to top floor balcony
· Chair rail type skirt molding
· Shadow box inlays below chair rail
· Inlays high on front wall and up stairway
· Inlay trim over closet doors
· Oak stair treads on stairs to upper level finished with carpet and white spindle rails
· Fiberglass insulated front entrance door with full length decorative glass with full side panels on both sides
· White 6 panel double door foyer closet, and power room door.
Foyer Bath 3
· Kohler fixtures - pedestal sink, and Highline elongated toilet
· Kohler Highline elongated toilet with slow close no-noise lid.
· Chair rail style skirting
· Mirror and contemporary light fixture
· Panasonic quite ceiling fan with integral 4 watt florescent night light and ceiling light
· Separate wall switches for fan, night light, ceiling light
· Ceramic tile flooring
· Double window facing street side
· Slatted retractable blind on window

Laundry Area
· Whirlpool high end Duet washer dryer pair. Front load washer, Automatic Moisture Sense Electric Dryer.
· Dryer directly vented to outside
· In wall single lever dual hot/cold water shutoff and drain fixture for washer
· Overhead cabinets for laundry supplies
· Hidden off the main level hall connector hallway behind dual vented folding doors
· Tile flooring in laundry closet with prefinished Ύ" natural 3.25" wide red oak hardwood flooring in hallway connector outside laundry closet.
· Switch operated ceiling light in laundry closet
Master Suite
Spacious suite conveniently located on main living level features large bedroom with raised ceiling, lake view, 12ft walk in closet, private bath, and large linen closet. Master Suite is on a separate HVAC zone from the rest of the main level allowing night time set back of main living area for energy savings.
Master Bath 1
· Curved glass 52" shower featuring hand held shower head, white acrylic base, and vanity top matching cultured marble smooth wall panels for easy cleaning, curved sliding glass door unit.
· Kohler Highline elongated toilet with slow close no-noise lid.
· 66" Roma cultured onyx marble counter that matches shower wall panel finish with integral dual sinks.
· 34" x 66" mirror framed over vanity.
· 60" x 60" Kohler whirlpool tub with sprayer and heater.
· Recessed light over tub.
· 12" high tile accent strip around back of tub.
· 36" x 60" mirrors on the walls behind tub above tile accent strip.
· Trim rail style skirting on walls and crown molding ceiling trim.
· Solid wood cabinets with 4 drawers and under sink storage.
· Color keyed tile flooring.
· Double window to street side
· Panasonic quite ceiling fan with integral florescent night light and ceiling light
· Separate wall switches for fan, night light, ceiling light
· 3 Recessed can lights over counter and toilet area
· 3 towel bars, towel loop, robe hooks, extra holder for spare toilet paper roll.
· Slatted retractable privacy blind on window
· Heated bath floor with dedicated thermostat control synchronized with central heating system.
Master Linen Closet
· 4 x 4 ft walk in between master bath and master bedroom
· Built in shelving – 4 full width shelves 24" deep.
· Built in 3 drawer 30" 3 drawer cabinet with 1 full width shallow drawer and 2 full width deep drawers
· Commercial grade 2 drawer lockable filing cabinet for record storage.
· Carpet matchs bedroom.
· Switch operated ceiling light
· Access panel in ceiling to area over master suite.
Master Closet
· 8 ½ x 13 ft. carpeted walk in master closet area matches bedroom carpet.
· Single rod section for long clothes
· Multiple Dual rods sections for short items
· 23 built in shoe and sweater bins
· Built in floor mounted safe with digital combination
· Overhead shelves for additional storage
· Built in wall fold out ironing board unit
· Floor space for pants press or other items
· 3 switch controlled ceiling lights
· Double opening window unit facing the street side
· 6 panel door closes closet off from bedroom
· Slatted retractable blind and curtains on window
Master Bed Room
· Large 13 x 19 floor plan
· Volume ceiling with vaulted style raised center area
· Remote controlled variable speed Hunter 54" ceiling fan and light unit
· Crown molding ceiling trim on room perimeter and in raised ceiling area
· 9 ft wide window with side operators providing expansive lake views from your pillow
· Two single 24" width operating side wall windows
· Separate master suite programmable HVAC zone for energy savings
· 2 telephone jacks, 2 internet jacks, TV wall jack, and high wall receptacle.
· Split receptacles with bottom half live and top have controlled by wall switch
· Security system keypad with LCD readout display and beep warning alarm on wall near door
· Garage door status and control panel on wall near door
· Thermostat control for master suite zone provides basic control functions. Zone is also fully programmable from master control thermostat controller in the family room.
· 2 Central vacuum ports – One next to entrance to master closet, one next to bathroom door.
· Slatted retractable blinds on all windows

Pantry behind Kitchen
· Varied depth and height shelving to accommodate storage of canned, boxed, food goods or large pots and pans, and small appliances
· Shelving on 3 walls with walk in from 4th side.
· Extensive shelving from floor level to ceiling.
· Tile flooring matches rear hallway and kitchen/breakfast areas.
· Double operating window overlooking the lake
· Recessed area housing second refrigerator/freezer
· Large storage cabinet overhead refrigerator
· Broom closet for storing brooms, mops, and central vacuum hose unit.
· 2 wall switch controlled LED ceiling lights
· Sliding Pocket door to close pantry off to rear hallway
· Convenient access across from door to garage for bringing in groceries
· Heating/cooling vent in floor under window.

Rear Main Level Hallway
· Connects with the kitchen, dining room, pantry, and garage.
· Clothes closet with white 6 panel door off end of hallway near door to garage for every day coats, hat, boots, etc.
· Tile flooring matching kitchen and pantry
· Security system control panel near garage door
· Garage door status control panel next to garage door
· Fuel Oil Level LED status panel across from garage door
· Central vacuum port services dining, kitchen, and pantry.
· Chair rail style skirt molding with shadow box inlays below the skirt
· Crown molding ceiling trim
· Heating/Cooling vent next to garage door
· Electronic door lock to garage. Controllable by: key, small remote control, wireless push button keypad on outside of door, or by the home automation controller.
Lower Level Room Details
The lower level is laid out to provide lake views from all areas except the utility room. The layout includes a large rec room, closet, party kitchen for supporting lake front gatherings, commercial sized sauna, full bath, workshop, and utility room.
Rec Room/Home Theater Area
· Wall to wall low pile office grade carpeting covering 23 x26 ft. floor area
· 9 ft ceilings with 8 ft under beam and HVAC duct area
· 12 recessed can lights
· 2 – 6ft wide window units with views of the lake
· Open concept to party kitchen area
· Doors to workshop, and utility room
· Closet for hanging water gear with overhead storage shelf
· Carpeted stairway with oak railing leading to main level hallway
· TV and Internet jacks
· Temperature sensor for HVAC zone control. Zone is fully programmable using master control thermostat in main level family room.
· Central vacuum ports near door to workshop and on front wall of sauna.
· Slatted retractable blinds and curtains on all windows
Lower Kitchen
· Counter top with 2 place bar overhanging rec room area.
· Appliances include Electric Stove/Oven unit, Microwave, Dishwasher, and Refrigerator
· Stainless steel single large bowl sink
· Recessed can lighting mounted in soffits.
· Tile flooring laid in diagonal pattern.
· Under cabinet GE kitchen radio
· Heating vents in ends of soffits
· Full length glass panel door in kitchen/hallway area leads out to brick paver walkway leading to patio and lake front lawn areas.
Sauna
· 6 x 8 ft commercial size sauna
· Two level L shaped benches span 2 walls
· Western cedar construction using tongue and groove wall boards, and ceiling, with solid cedar bench units, floor grates, heater fence, door unit, and finish trim.
· Full length tempered glass panel in door
· 220 Volt 6KW sauna heater in a stainless steel cabinet and lava bed surrounded by protective safety fence
· Tile flooring in diagonal pattern matches lower kitchen and hallway
· Temp control and timer panel by sauna entrance
· Rustic western cedar siding on exterior wall.
· Wall switches for light over entrance, and interior light
· Sauna thermometer, water bucket, and ladle
· Dual window unit directly across hallway from glass sauna door provides view of lake from inside sauna with slatted retractable blind and curtains on window

Lower Level Bath 2
· 1 piece 42" x 60" fiberglass Tub/shower unit with hand held or bar mounted shower unit
· Chair rail style trim rail finished in nautical theme
· Kohler Highline toilet
· Tile flooring in diagonal pattern matches kitchen, hallway, and sauna.
· Sink and mirror with single vanity cabinet and over mirror light
· In ceiling fan and light unit
· White finished 6 panel door
· Towel bars, robe hook, and toilet paper holder fixtures.
· Dual window unit with view of lake
· Slatted retractable blind and curtains on window
Workshop
· Spacious area to support large wood working equipment including table or radial arm saws, drill presses, planers, etc.
· Double door unit with upper glass to brick paver patio area with view of lake. This double door unit allows larger items to be brought in for service work, etc.
· Wall switch controlled double row of track lights provide direct flood light over each piece of shop equipment
· Unfinished walls with plywood on lower portion and plastic sheeting on upper wall areas
· Insulated ceiling unfinished
· Well pressure tank and well controller for lawn sprinkler well pump
· Wall storage shelving areas for parts and other storage
· Switched receptacles for turning off power to all equipment
· Electrical breaker sub panel for kitchen, shed, boat house, garage, pantry, and workshop.
· Multiple ceiling lights controlled by wall switch.
· Underground electrical connections for boat house, shed, and well
· Shutoffs for rear and front outdoor faucets.
· Concrete floor with carpet pieces for softer feel.
· Stairway directly to garage with garage entry door at top
· Push button electronic security pad on lock on door from garage to provide convenient access without a key. This lock is also remotely controllable via the home automation controller, or the wireless remote control door control, in addition to using the key pad or key.
· 6 panel door to rec room area
· Telephone jack
· Work bench
· 8ft. heavy duty gorilla shelving unit.
· Lumber and flooring bin
· Storage area under stairway
Utility Room
· 185,000 BTU 5 section G215 Buderus Boiler with Riello F40 Burner supporting 4 zone hydronic heat system, two floor heat zones, and domestic hot water.
· Circulator pumps for kitchen, back hallway, and master bath, under floor heating.
· Circulator for far end kitchen hot water
· 70 gal stone lined Vaughn Top Performer hot water tank heated by boiler
· Bryant DC motor variable speed HVAC fan unit that supports lower and main floor levels
· 275 Gal Heating Oil Tank with filler pipe on front of house. Remote fuel level indicators.
· Water Service entrance with shutoff, and an in-tank level sensor connected to the automation system that sends an email when oil supply is low.
· Access to sewer cleanouts
· 2 Electrical panels with automatic transfer switch for fully automatic backup generator.
· Wall switch controlled multiple ceiling lights
· Dual motor MD Central vacuum power unit with dual exhausts to outdoors
· Structured wiring panel for phone, TV, Internet, Fire, Security, Home Automation Controller, and Garage Door Status.
· Space for storage shelving
· Storage area under stairway
· Whole house water filter unit
· Unfinished walls, ceiling, and cement floor
· 3 HVAC electric dampers in ducts for Master Suite, Main Living, and Lower Level zones.
· Telephone Jack
· Direct entrance from outside for cable, telephone, and electrical services.
Upper Level Room Details
Bedroom 2 (next to balcony)
· Large size room easily supports twin or king bed configuration
· Large triple width window provides views of the lake
· Wall to wall carpeting
· Double 6 panel doors to 8 ft closet
· Wired with 2 multi line telephone jacks, 2-internet jacks, high wall TV jack
· Hall alcove access to large bath room
· 6 panel door finished in white with oak stained trim and baseboard
· Slatted retractable blind and curtains on window
Bedroom 3 (at far end of hallway)
· Large size room easily supports twin or king bed configuration
· Large triple width window provides views of the lake
· Wall to wall carpeting
· Double 6 panel door to 8 ft closet
· Wired with 2 multi line telephone jacks, 2-internet jacks, high wall TV jack
· Direct access to large bath room shared with bedroom 2
· 6 panel door finished in white with oak stained trim and baseboard
· Slatted retractable blind and curtains on window

Bedroom 4 (facing the street)
· Supports queen bed configuration
· Direct access to private full bath room
· Double width window provides views to the street
· Wall to wall carpeting
· 6 panel door to 6 x 7 ft walk in closet
· Wired with 2 multi line telephone jacks, 2-internet jacks, high wall TV jack
· 6 panel door finished in white with oak stained trim and baseboard
· Slatted retractable blind on window
Bath 4 (large upper level bath)
· Spacious bathroom area
· Tile flooring in sea foam color
· Supports bedroom 2 via access from hallway alcove, and bedroom 3 via direct entry.
· Dual sinks integrated in 8 ft counter top in sea foam color
· Full width 3' x 8' mirror finished with white trim frame
· Solid Birch stained cabinet
· Wide 42" x 60" 1 piece wide fiberglass tub and shower unit with hand held shower for easy cleaning
· Kohler Highline elongated toilet
· Privacy wall to white 6 panel door to hallway alcove
· White 6 panel door providing direct access to bedroom 3
· Linen closet with white 6 panel door and 4 shelf units
· Large 6 ft triple window with view of lake and brightens bath
· Panasonic quite ceiling fan with integral florescent night light and ceiling light
· Separate wall switches for fan, night light, ceiling light
· Chair rail type skirt trim
· Slatted retractable blind and curtains on window

Bath 5 (upper level on street side)
· Private bath to bedroom 4
· 42" wide fiberglass tub and shower unit with hand held sliding bar mounted shower head
· Sink, mirror, and light over mirror
· Chair rail style skirt molding
· Kohler Highline elongated toilet
· Tile flooring in tan color
· Pull down access stairway to attic area in ceiling
· Switch operated ceiling and mirror lights
· Double window overlooking street side
· Linen cabinet with 2 oak panel doors
· White finished 6 panel door with oak stained trim
· Slatted retractable blind and curtains on window
Mechanicals
HVAC
· Buderus G215, 5 section, 185,000 BTU hot water oil fired boiler
· Circulator pumps respond to calls for domestic hot water, or for heat across the 3 living levels.
· Stone lined 70 gal hot water tank with heat exchanger coil uses a circulator off the boiler to provide domestic hot water.
· Hydronic heating system providing warm air heating to the rooms. A heat exchanger unit mounted above the fan units provide heat transfer from the hot water boiler to provide heated air for the rooms.
· 4 zones of heating and 4 AC Zones – Lower level, upper level, Master Suite, Main Floor Living area
· Floor heat circulators for kitchen/rear hallway, and master bath will not run if the central heat has not come on in the last two hours. This insures that the floors heat stays off on warm fall or spring days when central heat is not needed.
· Upper level has dedicated HVAC fan unit in attic area and dedicated AC compressor.
· Main and lower levels share fan unit located in utility room and large outdoor AC compressor unit. Fan unit, AC Compressor units, and Evolution Control system are by Bryant. The DC variable speed lower fan unit is managed by a sophisticated computerized Carrier/Bryant controller housed in the master thermostat located in the family room that manages fan speed to meet the needs of each zone size to control temperature and humidity. In duct electronically controlled zone dampers open and close air flow to each zone as needed.
· Outdoor AC compressor is Bryant 2 stage high efficiency Copeland style compressors coupled with computerized variable speed indoor fan unit provides 18 Seer cooling efficiency.
Plumbing
· The water supply plumbing throughout the house uses PEX piping with brass connection fittings and stainless steel clamps. All drain piping uses ABS plastic.
· Water and sewer are town supplied.
· An underground water shutoff port is located in the front lawn at the top of the bank near the street. An indoor shutoff is located in the utility room.
· A well located near the NW corner of the house supplies water for the in-ground, 9 zone, lawn sprinkler system, flower and shrub watering, and car washing.
· There are outside faucets for both the well and town water on the street side and on the lake side of the house.
· Well water is supplied by a constant 45 psi controller valve to maintain constant water pressure to lawn sprinkler zones.
Electrical Specifications
· House is wired with 200A mains service
· Whole House surge protection.
· 4 circuit breaker boxes –
o 1 sub panel behind closet door in upper level bedroom 4(front) walk in closet on street side controls power to upper floor
o 1 sub panel in workshop area that controls garage, kitchen, pantry, shed, boat house, well pump, and workshop.
o 2 --100 amp main panels in utility room
o Automatic generator 200a transfer switch
· Automatic whole house 14KW Generac generator automatic transfer switch powered by propane tanks located at southwest corner of the house.
· 220V jack in garage for 50amp for high power electric equipment.
· 30 amp spare 220V wiring run to garage to support future hybrid car charging outlet.
· Electrical service runs underground from pole at street to meter located on SE front corner of house as does TV cable. Currently TV cable carries TV, Internet, and Telephone supplied by Charter Communications.
General Construction Details
The house is constructed with many energy efficient features. Because the house was constructed on the lake shore, design decisions reduce heat loss from winds off the lake. These include:
· Anderson 400 Series Casement thermo-pane Low-E windows designed with double sealing to seal tighter when wind loading is applied to their exterior surfaces.
· Window units were sealed with two applications of insulating foam between window frame and rough opening to eliminate air leaks before interior wall were installed
· Sealed Fireplace unit uses dual liner piping to draw fresh air in from outside though and outer pipe and exhaust flue gases out through an inner pipe.
· Kitchen cooktop unit uses charcoal filtered inside venting, integral to the microwave oven, to eliminate air loss from outside venting.
· Furnace boiler implemented with direct exhaust venting system to eliminate heat loss drafting that would occur with a chimney.
· All exterior walls are constructed of 2" x 6" framing to increase strength and accommodate the more efficient R-21 insulation.
· Outer walls are covered with moisture barrier which keeps out moisture but allows house to breath.
· Plastic sheeting installed behind wall board on all exterior walls and all ceilings to reduce air leakage and provide additional moisture barrier.
· R-38 insulation in attic and above lower level ceilings.
· 2" insulated garage doors with weather seals
· Insulated interior walls bordering the garage
· Moisture barrier plastic sheeting laid under lower level concrete subfloor to reduce energy loss and moisture transfer
· Thermostatic fan driven heat exchanger installed on furnace flue to reclaim heat from oil burner exhaust
· State of the art 18 SEER Carrier/Bryant Evolution Control Computerized control of 2 stage AC compressors, and hydronic heating system, using variable speed DC fan, programmed setback, and humidity management. Low speed fan operation provides a more efficient, more stable, constant temperature, and provides superior humidity control over conventional full on/full off less expensive systems. Duct pressure is controlled to never over pressurize the ducts by the fan running at the wrong speed.
· 4 zones of heating and cooling to allow programmed setback of zone for the periods that areas are not being used.
· Hot water pipes are insulated in all exposed area to reduce energy loss
· Motion detector activated hot water calling for kitchen faucet circulates hot water only when needed
· Ceiling fans provide additional air movement and allows AC to be set at higher temp to increase efficiency.
· Low energy bulbs and fixtures throughout to reduce energy use.
· Energy save clothes washer and dryer models.
Other Property Structures
Boat House
· Rebuilt in 2005 at the same time the house was built
· Hewitt transporter rail winch system transfers boat from dock side position into boat house. This system is constructed of all aluminum and disassembles for winter storage in the boat house. The rail lifts boat out of the water and provides the elevation needed to clear the foundation to enter the boat house. Winch controlled by manual or wireless remote control.
· Accommodates boats of 22ft. length or less.
· 9ft x 7ft fiberglass overhead door. Skirt mounted to bottom of door provides trim around boat rail
· Nature spring in boat house keeps water in boat house from freezing even in the coldest weather.
· Solid fiberglass side door for entering boat house from outside stairway landing. Window and screen in door provides light and ventilation.
· Sided to match the house
· Architectural asphalt shingle roofing to match the house
· Catwalk around inside, provides walk way and storage.
· Cement stairway leading from lawn down to dock and water edge area
Detached Garage Building
· Grandfathered block structure was renovated in 2006 to match house
· 13 x 18ft interior dimensions
· Renovations included: A 9ft wide overhead door, new wiring, door opener, hip roof with shingles, siding, trim, and new window units, to match the house, floor and wall repair, and walls painted with white epoxy based concrete paint.
· Very useful for storing a car or off season items including car, jet-ski, trailers, lawn mower, snow blower, etc.
· Door control and status indicator wired to panels in the house.
· Door opening key pad on door frame with remote controls.

Lighthouse
· 8ft replica of the Lattimar Reef lighthouse
· LED 27 watt rotating beacon
· LED lighted windows
· LED in ground back lights
· 38" Octagon cement pad with hold down anchors
· Underground electric connection from house
· Remote Control On/Off Switching controlled by home automation system
Electronics Description
This section describes this electronics support implemented in this house.
It is planned that all of the devices and functionality discussed in this document will stay with the house when it is sold.
While one can go crazy with electronics in houses these days, electronics was only added if it either increased Safety & Security, or improved Ease of Living for the occupants of the house. These two criteria run the gambit from: safety, security, lighting support, and monitoring to warn when attention is needed.
The focus of the automation installed in this house was to not only meet the two goals mentioned above, but to do so as automatically as possible and adjust to fit how the occupants live. Should there be the need to either change one or more actions, or add additional capabilities. The system, while requiring startup learning, is in fact fairly easy to modify to add, change, delete, or have one of the capabilities work differently for anyone who has computer skills.
The best ways to understand the installation is to break it down into its main components. Each piece of functionality will be discussed in the following separate sections of this document.
Sections:
1. Wiring
2. Phone support
3. TV support
4. LAN Network support including high performance WiFi.
5. Security, Fire, and CO, alarm support
6. Lighting and other device automation
7. Other Electronic Support
Section 1 – Wiring
During house construction, wires were run from each room location to the central infrastructure wiring panel located in the utility room on the lower level. All wires are "home run" meaning they run from their planned room locations directly to the infrastructure wiring panel. Except for the RG6 TV cable, all wire runs used Cat 5e network cable. The general room locations of each type of run is as follows:
TV – RG6 Coax runs to each bedroom wall mount TV location. AC receptacles were also placed at these wall locations. In the family room, an additional run goes to the media center. The two kitchens also have TV jacks above the counters.
Telephone – Each bedroom is wired with two phone jacks and will support two telephone lines in the house using Cat 5e wiring.
LAN – Two LAN jacks are located in each bedroom. One is located behind TV wall mount locations and the other is placed for a desk based computer connection. There are 3 LAN jacks in the family room. There are also jacks in the 2 kitchens, family room, and rec room. In addition the router provides G, N, and AC WiFi connections.
Security – Each window that is less than 10ft off the ground, and each door, have cable runs connected to security sensors. There are also wire runs to room wall locations for glass break detectors in all first floor rooms and lower rec room windows. Wire runs also go to locations in foyer, hallway, family room, and lower rec room, for security motion detectors. In addition, there are runs to: garage doors, garage door status and control panels, heating oil tank, fuel level display in rear hallway, generator, the security system, and outdoor weather station, for sensors connections.
The wiring panel is powered by a single 60 watt supply providing 12v/5a and also contains a voltage converter module to produce 5v where needed. It plugs into a GFI receptacle mounted in the bottom of the panel. This GFI receptacle connects to a 600va backup power unit which is used to continue to power the panel for the 20 seconds it takes for the whole house generator to start up and transfer the house load to it from the utility company.
Section 2 – Phone Support
Currently, the telephone service is by Charter Communications and comes in on the same cable as the TV and Internet. A feed from the TV cable is split off and runs to a voice router mounted to the right of the wiring panel which separates out the telephone channel and feeds it to the telephone blocks in the panel which connects to all the phone lines. The security system also connects to the telephone network for dialing the security monitoring service.
Section 3 –TV support
TV service is currently provided by Charter Communications and runs from the pole on the street at the south end of the property, through an underground conduit and enters the house at the southeast corner. The cable runs to the wiring panel where it feeds the in house system. Feeds are split off and run to the voice router for voice services, to the cable modem for internet services, and connects to a 16 port video distribution amp to feeds amplified TV signals out to all the room jack locations.
Section 4 – LAN Network Support
Internet services are currently provided by Charter Communications from a cable feed to the cable modem in the panel. The cable modem feeds a LAN signal to the Router. The router in turn connects with all the devices connected to the network throughout the house. The 4 Router ports are increased to 20 ports with the addition of the 16 port Ethernet switch feed the network to all the LAN jacks through the house. The router also provides WiFi support for G, N, and AC Wi-Fi bands for any wireless network connections. Because of the Wi-Fi signals, the router is mounted above the wiring panel. The router and switches support broadband 1000based T bandwidth.
Section 5 – Security, Fire, & CO System Support
Home security is provided using and ELK Products M1Gold model security and automation controller. This controller provides controller support for: smoke and fire alarms, CO detector near furnace, home security monitoring, and home automation controls. This section will discuss only the security and fire support.
The base ELK M1 Gold (M1G) controller contains 16 input zones plus the two 16 zone expansion cards provide 48 zones. All house windows less than 10ft off the ground, each exterior door, each wired motion detector, all glass break detectors, plus a variety of other devices are each connected to a zone input. Input zones are named and configured to define what they. Zones appropriate to security are assigned as security zones. The security system can be armed in STAY mode which will trigger if one of the parameter sensors is tripped but ignore the interior motion detectors to allow the alarm to be set when you are home. AWAY adds the interior motion detectors to the security profile.
There are 3 Smoke and fire zones, one for each floor. When one detector is tripped, the ELK causes all detectors to alarm as required by code. The Smoke, Burglar, and CO alarms are reset by entering the user code programmed into the ELK. A voice card that contains pre-stored loud voice messages for FIRE, BURGLARY, and CARBON MONOXIDE loudly announce the appropriate warning. This voice card feeds a speaker mounted next to the system speaker in the hallway near the foyer. A second speaker announces a voice mode which in addition to announcing alarm triggers, announces the specific door or window opening whenever a zone is opened. The two garage doors and the shed door are identified with specific close messages in addition to the specific open messages. The garage doors and garage windows are also wired for security arming. The system supports all the common security monitoring service protocols and also supports internet based monitor services connections that use the DSC format.
The M1Gold controller is housed in its own smaller panel and is mounted to the back of the large wiring panel. The small panel houses the M1G controller, an 8 output relay card, the ELK network interface card, and the battery for the battery backup to keep the security system operating when power fails. The ELK zone expansion cards are located in the large wiring panel to provide space for most of the zone input wires to connect to the system.
There are two key pads with and LED two line displays, function keys, and number pads located next to the door leading to the garage, and the other is in the master bedroom. The system can be armed and disarmed from either of these pads and also from a remotely located Smartphone or PC with the "M1-to-Go" app installed. In addition the free ELKRP app runs on a PC to provide complete setup and control of the M1G.
Section 6 – Home Automation
Please note that only automation which either improves safety and security, or improves the ease of living in the home was considered. If it did not meet one of these criteria, it was not considered for implementation. Likewise, the goal of all automation was just be there and work automatically adjusting itself to the way you live in the home and not make you a slave to the automation. To accomplish, it uses occupancy detectors, references to the sunrise/sunset tables, etc. to automatically adjust as the seasons change.
To better understand home automation, more discussion of the ELK controller and an industry recognized home automation capability called INSTEON is needed.
The ELK is not just a security and fire controller as discussed in prior section. It also includes the ability to support home automation programming. If you are not familiar with what exactly home automation is, it will become clearer as you read this section. The ELK contains the ability to "write" 500 program statements. These simple to create statements allows the user to specify the actions you want the ELK to take when a certain input or combination of input conditions are present. Each program statement uses a WHENEVER, AND, THEN format. A program statement is generated by clicking on the WHENEVER button which causes a drop down menu with the possible choices to occur. You select a choice and click on OK. You can add AND conditions followed by the THEN action(s) you want to have happen. An example from this system includes: WHENEVER it is 30 minutes before sunset, THEN turn on the family room lamp. Another example would be: WHENEVER kitchen motion is detected, AND the kitchen dusk-dawn sensor is on, THEN turn on the kitchen light. The use of INSTEON is the second key element associated with a home automation system.
While not all the automation support implemented uses INSTEON signaling, the use of INSTEON automation signaling greatly adds to the capabilities that can be controlled by automation. It provides a way to connect devices that are not direct wired back to the wiring panel. INSTEON is a dual signaling technology which both sends signals sent over the house AC wiring and also via wireless links. The INSTEON devices each have an address so each can be identified to send commands to or receive inputs from. INSTEON supported devices come in many forms including: plug in appliance modules, light bulbs with built-in Insteon circuitry, wireless motion detectors, wireless door and window sensors, water leak detectors, light switches, thermostats, etc. Up to 256 different Insteon devices can be configured into an INSTEON network. This network using about 25 Insteon devices including wireless motion detectors, light bulbs, wall switches that replace regular switches, and appliance modules.
A Universal Devices model ISY-994i controller is used to interface to the Insteon modem on one side and convert the Insteon protocol to ELK supported format on the other side. The ELK and ISY are both connected directly to the LAN and talk to each other over the LAN. As examples: When an Insteon motion detector senses motion, it sends a wireless Insteon signal to the Insteon network which is received by the ISY-994i. The ISY converts the Insteon message to ELK compatible format and sends it across the LAN to the ELK. The ELK uses them to trigger program actions just like zone triggers do. Thus the Insteon network adds many other input and outputs that the ELK can control using it's WHENEVER, AND, THEN, programming capability. The following is a list of the home automation actions programmed into this system.
1. Use motion detectors to trigger turning kitchen light, hallway lights, garage lights, master bedroom lamp, lower stairway lamp, and turns off 2-3 minutes after the last motion is detected in those areas. The master bedroom motion detector is set to only trigger when a person stands up in the bedroom such as getting up to go to the bathroom. It controls a 15% brightness Insteon bulb as a night light. It turns off 45 seconds after being triggered.
2. Turn on evening lights including family room lamp, dining room lamp, lower stairway lamp, rear hallway light, master bath, master bedroom lamp, and lighthouse. Rear hallway lights, and master bedroom lamp, turn off if motion detector is triggered and times out. All other lights except the master bath light are turned off at 10pm. Master bath light stays on until 30 minutes after sunrise to serve as a night light in the bathroom.
3. Turn on family room lamp and dining room lamp on at 5:45am, if still dark. These are turned off 30 minutes after sunrise.
4. Send emails for a variety of conditions including:
a. House doors opened or closed
b. Garage doors opened or closed
c. Carbon Monoxide Detected
d. Generator start/stop
e. Generator failed to start
f. Generator fault condition
g. Low temp in house indicating heat is off
h. Low temp in outdoor weather station sensor pod indicating rain cone heater not working
i. Water shut off because a leak was detected
j. Low oil level in heating oil tank
k. Low battery in a specific motion detector (these emails sent by ISY)
5. Turns off water when a leak is detected or by command from smart phone
6. Garage doors and shed doors are automatically closed if open 10 minutes
7. Turns on garage light and rear hallway lights for 3 minutes whenever a house door to the garage is opened.
8. Automatically lock doors from house to garage at 7:30pm. Locks are keypad, key, remote, or Insteon controlled.
9. Remote control of security and automation controller – Apps are available for PCs and Smart phones (M1toGo) that allow the ELK to be accessed remotely using a PC or Smart phone. This capability allows status to be monitored and outputs can be controlled to turn lights, water, etc., on or off remotely.
10. A free PC app named ELKRP (Elk Remote Programming) provides ability to configure all setup parameters for the ELK LAN interface and the ELK controller including defining zones types, writing or editing Whenever, And, Then program statements, etc.
Section 7 – Other Electronic Support
There are a few devices that that provide capabilities that are not connected into the security and automation system. These include:
1. Internet connected Davis Vantage Pro II weather station – An outdoor pod of sensors located near the boat house include: temperature, rain, wind speed, wind direction, and humidity. The sensor pod contains a photo cell that charges a super capacitor to store power. A lithium ion battery supplies backup power when there is a lack of enough sun. An indoor console located on the kitchen counter features a 7 inch display of weather readings that is network connected. The system feeds a website maintained by the manufacturer (Davis), which is available to anyone with the URL link in a browser.
2. Mail arrival module. This device includes a wireless sensor fastened to the inside surface of the mail box door and when the door is opened, a tilt sensor triggers it to send a notification signal to an indoor unit with both audio and red light alert that the mail has arrived. This saves a lot of trips to check on the mail.
3. Garage door status panels. There are three overhead door status panels which contain a red LED for each of the two main garage doors and the detached garage door that light when the doors are open. The panels are located in the hallway next to the door leading to the garage, in the kitchen, and in the master bedroom.
4. Boat house door status. –A tilt sensor mounted to the boathouse overhead door sends a signal to a sensor on the kitchen counter to indicate the state of the door.
5. Wireless Remote panel on generator. – The Generac 14kw whole house automatic generator in this installation is equipped with a wireless remote monitoring and control panel which displays the status of the generator, allows for some setup changes, and allows some remote control such as test starting the generator, test transferring load, etc.
6. Motion controller driveway lighting. A dual light unit with a built in motion detector and an evening night light mounted over the garage doors provide flood lighting of the driveway when triggered. It automatically returns to night light mode 4 minutes after it last senses motion.
7. Motion enable lights on the lake side of the house by both lower level doors.
8. Motion enable spot light mounted on rear of the house focused on the stairway leading up from the boat house to provide lighting when returning from boating.
Items That Stay With Property
1. All appliances in both main and lower party kitchen.
2. Refrigerator in Pantry.
3. Front load Whirlpool Duet Washer and Dryer in laundry
4. All Ceiling fans - Master bedroom, family room, nook, kitchen, and 3 upper level bedrooms.
5. All lighting fixtures except dining room chandelier.
6. Central Vacuum – 3 hoses – power heads – brush head for hardwood, and assorted attachments.
7. All Blinds
8. All Curtain rods
9. All curtains except curtains in, Dining Rm, Master Bedroom, Queen upper bedroom, Twin upper bedrooms (These match bedspreads and pillow shams)
10. Tile floor scrubber unit for tile floors (in panty broom closet)
11. Six bar counter stools
12. Boat Dock (currently stored in boat house)
13. Boat Rail System (currently stored in boat house)
14. Jet Ski lift (currently stored in boat house)
15. Two large tubs of inflatable water toys, inflatable boat, tow tubes, life preservers, oars, tow lines, and other misc. water items (in workshop).
16. Electronics
Media Panel in Utility Room
a. 42" Media panel and Smaller 18" Security Automation panel in utility room including 60Watt power supply and backup power unit for panel.
b. ELK M1 Gold fire, security, CO, and Home Automation Controller
c. Universal Devices ISY 994i used for Insteon interface
d. Insteon modem and filter mounted below panel
e. Broadband LAN Wireless AC router located above panel
f. Cable modem for Charter internet service
g. 16 port Netgear broadband LAN Switch
h. 16 port Leviton Video Distribution Amp (amplifies and distributes TV Video signals to all jack throughout the house (In panel)
(Note: The above set of security and automation components will only require setting it up for the new internet service, changing Email account, and change user name and passwords to be fully operational. All of the components needed for the system to fully function have been left in place. Seller will help new buyer make configuration changes needed for a new owner.)
17. Weather Station -Davis Vantage II Pro weather station including outdoor sensor pod unit near boat house and display console located on main kitchen counter. This is internet connected.
18. Home Theater System
a. 55" wall mounted Samsung 3D 240hz TV
b. 3D glasses
c. 5.1 Denon Home Theater system
d. Sony Blu-ray DVD player
e. Pioneer CD Cartridge Player
f. Bose small cube with base speaker system
g. Media Center Cabinet in family room
19. All Bath paper/towel/robe holders
20. Large wall clock over fireplace.
21. Sunsetter awning over deck
22. Large 8ft gorilla metal shelving in workshop, garage, and upper walk in closet.
23. Key pad access for Garage doors, shed door, and boat house door.
24. King Bed Set including platform bookcase bed, with built in lamp dimmer, old sleep comfort mattress, triple dresser with mirror, and a matching night stand.
25. Wood swing for lower patio
26. Outdoor Folding table and 4 chair set with cover for deck
27. Selected Deck chairs and cocktail table
28. Built in safe in master suite walk in closet
29. Workbench in work shop
30. Assorted small tools including some small power tools.
31. Lighthouse with LED beacon. windows and back lights
32. Generac 14Kw whole house automatic generator with fully automatic transfer switch located in utility room
33. Propane tanks – (tanks are property of Osterman Propane)
34. Telescoping 20ft Flag Pole
35. Plant hanger stakes
36. Misc. parts for items in the house stored in workshop
37. Box of Spare hardwood flooring
38. Tile pieces left over from tile flooring
39. Winch above overhead door in boat house near door used to put rail system in and out.
40. Garden hoses and some garden tools.
41. Assorted lawn flower bed decorative accessories
42. 10 ft. step ladder, and 6 ft. step ladder
43. Walk behind gas powered mower in separate garage
44. Electric chain saw
45. Stone bird bath for front flower bed and metal bath for waterfront
46. Remote controls for:
a. Fireplace
b. 55" TV in Family Rm.
c. Media center audio components
d. Ceiling fans (Family Rm., master bedroom, 3 upper bedrooms)
e. Garage doors (garage, separate garage, boat house)
f. Automation controlled door locks on doors from garage to house
g. Boat rail system winch control
h. Old sleep comfort air mattress on upper king bedroom
i. 27" wall mounted TV in upper king bedroom
j. Sun-setter deck awning

Check Out "By Drone" Below
[ Home ] [ 82 Lakeside Ave ] [ 82 Lakeside Ave Second Floor ] [ 82 Lakeside Ave Lower Level ] [ 82 Lakeside Ave Grounds ]
[ 82 Lakeside Ave Additional Information ] [ 82 Lakeside Ave by Drone ]